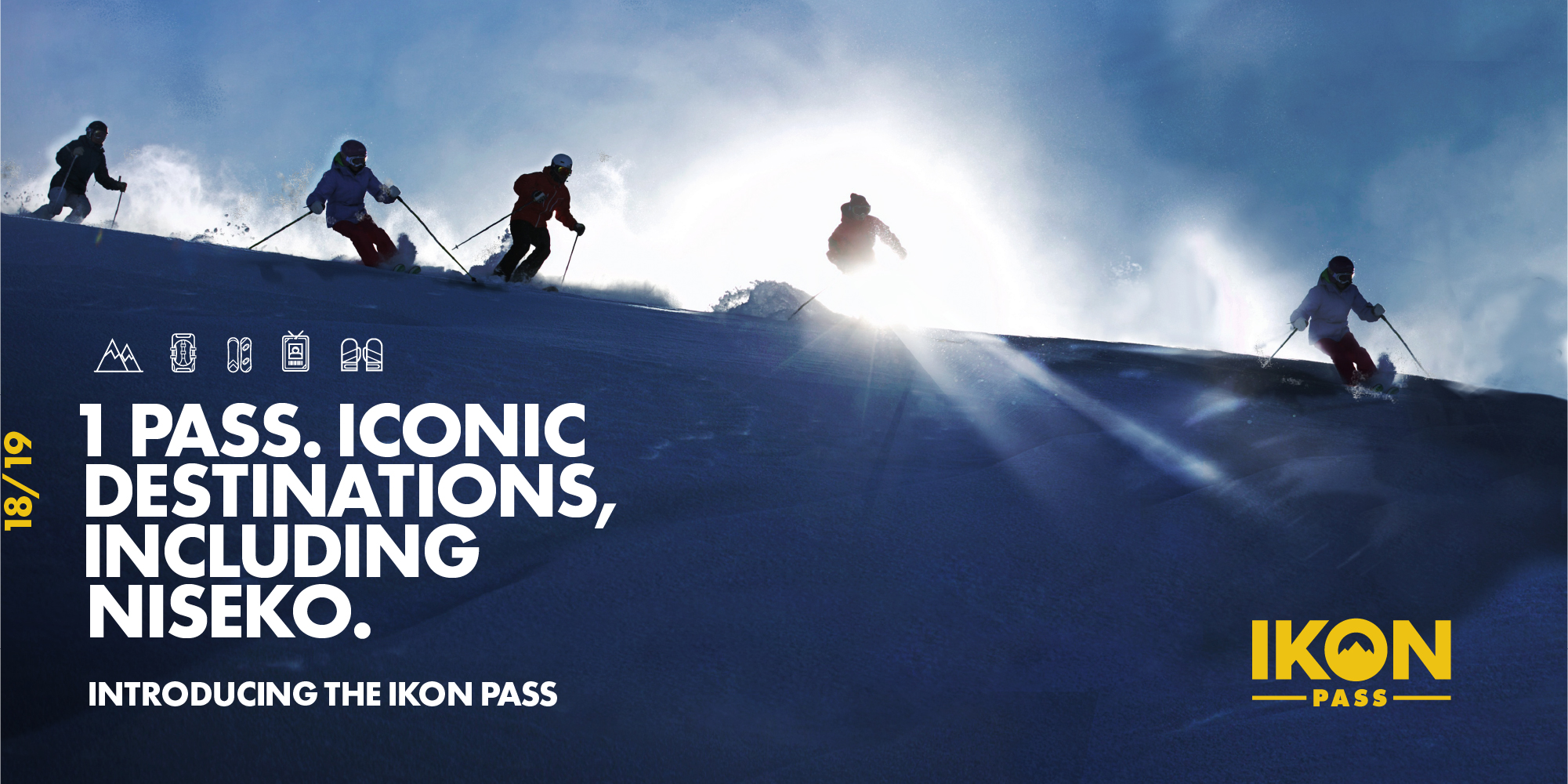 Ikon Pass, the new standard in season passes, connects the most iconic mountains across North America, Australia, and now Japan! The Ikon Pass offers the opportunity to access unique terrain, join a like-minded community, and experience the most iconic mountains around the world.
To provide the best experience and value, Ikon Pass offers two passes with varying level of access and benefits: Ikon Pass & Ikon Base Pass. Please visit www.ikonpass.com for more details.
The Benefits
Ikon Pass:
• 7 FREE Niseko United All Mountain tickets (non-consecutive)
• 10 x 25% discount 1-Day vouchers for family and friends.
• No blackout dates.
Ikon Base Pass:
• 5 FREE Niseko United All Mountain tickets (non-consecutive)
• 8 x 25% discount 1-Day vouchers for family and friends.
• 10 Blackout dates: December 26-31, 2018; January 19-20, 2019; February 16-17, 2019.
More pass details can be found on the Ikon Pass Website.
Ikon Pass Destinations by Location
• California: Squaw Valley Alpine Meadows, Mammoth Mountain, June Mountain, Big Bear Mountain Resort
• Colorado: Aspen Snowmass, Steamboat, Winter Park Resort, Copper Mountain, Eldora Mountain Resort
• Maine: Sugarloaf, Sunday River
• Montana: Big Sky Resort
• New Hampshire: Loon Mountain
• Utah: Deer Valley Resort, Alta, Snowbird
• Vermont: Stratton, Killington Resort, Sugarbush Resort
• West Virginia: Snowshoe
• Wyoming: Jackson Hole Mountain Resort
• Alberta, Canada: SkiBig3
• Ontario, Canada: Blue Mountain
• Quebec, Canada: Tremblant
• British Columbia: Revelstoke Mountain Resort, CMH Heli-Skiing & Summer Adventures
• New South Wales, Australia: Thredbo
• Japan: Niseko United
• New Mexico: Taos
• Utah: Solitude Mountain Resort, Brighton
• Michigan: Boyne Highlands, Boyne Mountain
• Washington: The Summit at Snoqualmie
• British Colombia: Cypress Mountain
• Chile: Valle Nevado
• New Zealand: Coronet Peak, The Remarkables and Mt Hutt
The Ikon Pass and The Ikon Base Pass have varying levels of benefits including unlimited access to some of the above resorts. Additional destination benefits and discounts are available at www.ikonpass.com.
FAQ
Where can I collect my FREE Lift Ticket in Niseko?
You are able to collect your FREE Niseko United All Mountain Lift Ticket from any of the 4 resorts –
Hirafu, Niseko Village, Hanazono and Annupuri. The locations within each resort are
Hirafu – .Base and Mountain centre information counters
Hanazono – Hanazono Lift ticket counter
Niseko Village – Base camp at the Greenleaf Hotel and Gondola base Lift ticket counter next to Hilton.
Annupuri – The Annupuri Gondola Lift ticket counter.
What Niseko United Lift Ticket Will I Receive With My IKON Pass?
IKON Pass holders can redeem a 5 or 7 days pass, which will be valid through this season, with only the days you actually use are counted until it reaches your maximum.
IKON Passholders can also purchase All Mountain pass at 25% off for family and friends, maximum for 8 or 10 days depending on your IKON Pass.
What do I need to bring with me to collect my FREE Lift Ticket?
The actual passholder needs to bring their IKON pass to collect the FREE Lift Ticket.
Can we arrange our FREE or Discount tickets in advance?
Unfortunately not. Both the FREE and discounted Lift Tickets can only be arranged in resort by the passholder.
*the above information should be used as a guide. Please ask the lift ticket counter for more details.