Onsen Etiquette in Niseko
October, 11th 2018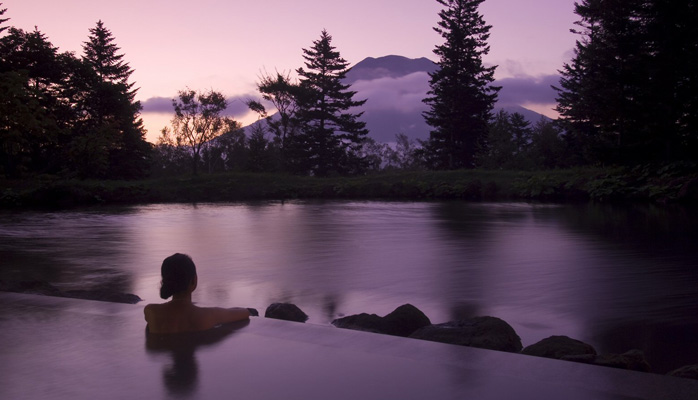 A trip to Niseko wouldn't be complete without a visit to one of the many onsen, or hot-spring baths, around town. Niseko's volcanic landscape provides the local onsen with water rich in mineral content – its therapeutic qualities are the perfect cure for those tired, aching muscles after a long day on the ski slopes.
For many visitors to Niseko a trip to an onsen is a unique experience and can sometimes be a little confusing or daunting. To help you out, we've put together some basic guidelines for onsen etiquette to ensure you have a great onsen experience.
When You Arrive:
Remove your shoes at the door (most onsen will have shelves or lockers for your shoes) and proceed to the reception or ticket machines to purchase your ticket.
Once you have your ticket you can enter the changing area. Nearly all onsen in Niseko have separate bathing areas for men and women so look for the red or blue curtains to ensure you end up in the right place!
Once in the changing area you will need to undress completely (no clothes, underwear or swimwear are permitted in the bathing area). You can leave your belongings in the designated baskets or lockers.
If you like, you can take a small 'modesty' towel with you to cover the important bits!
Once Undressed:
All onsen have a washing area that will have individual shower heads, buckets and stools and will generally also provide shampoo, conditioner and body soap. Take a seat and wash yourself thoroughly all over. You cannot enter the bath until you have washed yourself.
Once you've showered thoroughly you can then enter the bath. Some onsen have outdoor bathing areas, also known as rotenburo, which are a great experience in the snow!
While bathing it's acceptable to talk with your friends, as a trip to an onsen is a social event, however please be considerate of other visitors who may be trying to relax, and keep your noise to a minimum.
Do not splash others, throw snowballs, bomb dive into the bath or put your head under the water.
Things To Note:
Tattoos are generally not socially accepted in Japan and some onsen may not allow you to bathe if you have visible tattoos or multiple piercings, so do keep this in mind. The more traditional onsen will be more strict.
Do not allow your modesty towel, if you have one, to go into the bath. Either rest it on the side of the bath or on your head while you bathe.
Do not allow your hair to go into the water – if you have long hair you should tie it up before you enter the bath.
Once you're finished, make sure you dry yourself off a little before re-entering the changing area.
Most onsen have communal areas where you can sit and relax after your bath, and will often have vending machines where you can purchase drinks and food.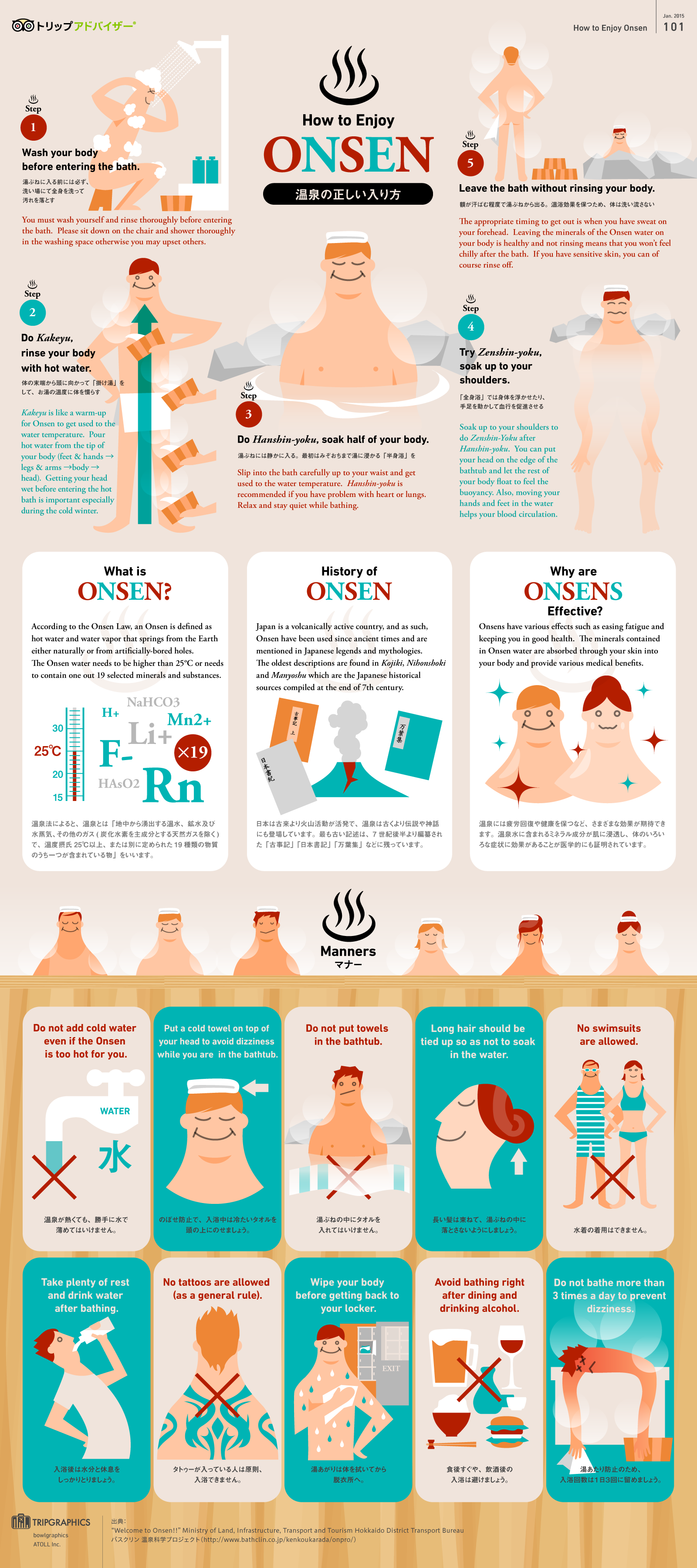 SUBSCRIBE TO OUR NEWSLETTER
Copyright © 2019 Niseko United.日本語