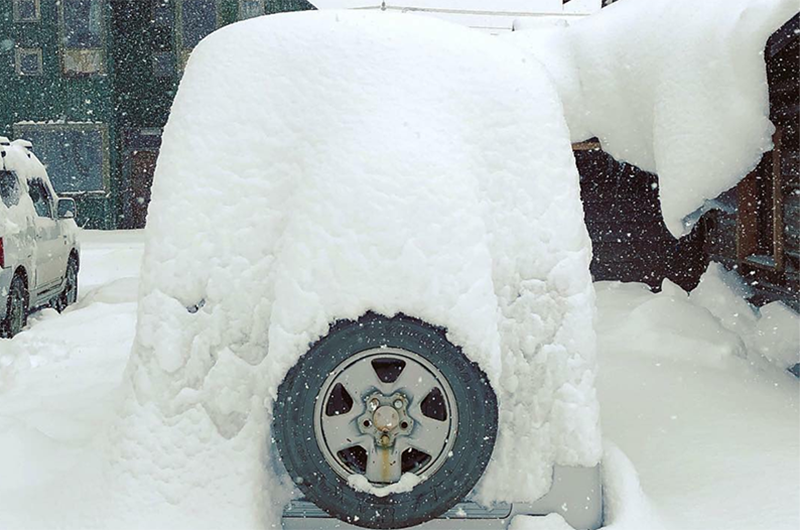 Photo: Aaron Jamieson
Almost a month in and we've kicked off another winter in Niseko with several periods classic Niseko powder, mixed in with a few days of sunshine.

We're about to call the end of "early season" before we head through to the peak period from Christmas through to early January, and so far Grand Hirafu's official recording is a solid 4.5m of snowfall 1000m with a base of 2m at December 20. We're happy!

Looking ahead and it looks like the favorable conditions will continue, with consistent light to moderate snowfall heading through Christmas.

A white Christmas on the cards?

So far the computer models are showing a good chance of snow on Christmas day! This is great news for anyone coming to Niseko to experience a white Christmas in an environment probably very unlike what they've left at home. We'll keep an eye on it in coming days and keep you up to date on Facebook – be sure to follow us if you don't already.

Early season wrap

We kicked off the season one day later than the scheduled opening day on 24 November, with Grand Hirafu being first to make the move, closely followed by Annupuri two days later.

There were plenty of early-season holiday makers here to make the most of it, as did the locals and seasonal staff. It's a great time of the season because there aren't too many visitors here, so there's lots of fresh snow to share, prices are cheaper and it's easier to get restaurant reservations.

We enjoyed a few powder days over the coming weeks but not a full-blown powder deluge like we saw last year. Top to bottom runs were a little slow to open but Hanazono and Niseko Village both opened on schedule on December 1.

So far this winter has been fairly typical with consistent snowfall and plenty of back-to-back 20cm plus mornings. The Japan Meteorological Agency is forecasting more of the same, with above average snowfalls for the next month, and around average for the remainder of the season.

Night skiing has started

The night skiing lights have been switched on for the season! If you've never skied at night you're in for a treat – especially in Niseko! There are hundreds of flood lights lighting up the lower half of the mountain – including plenty of off-piste and incredible tree runs – until 8.30pm. And the best part – you can ski on your day pass! Be sure to give it a go.