Grand Hirafu's take on Niseko's winter 2018/2019 is that it was "very average" – but please keep in mind we have very unaverage standards when it comes to snow quality and depth!
The number one statistic many look forward to is total accumulated snowfall. We like to take our official figure from 1000m at Grand Hirafu – snowfall is higher here than at village level, and more representative of the new snowfall accumulation higher on the mountainside where skiers and snowboarders will be burying their equipment.
So the total figure for 2018 (unless we get another snowfall which is looking possible):
14.3m.
Upon reviewing the numbers, Grand Hirafu marketing manager and gun skier Rynosuke Tanaka's assessment was:
"It was a very… kind of average season. Snowfall was not very a lot, but not too few," Tanaka-san says.
And that pretty much sums it up. 14m in most other parts of the world would be one for the record books but in Niseko, it's kind of average.
Taking a look at the past six winters, the average total snowfall was 13.7m.
Recent season totals:
2013/14 – 1,343 cm
2014/15 – 1,446 cm
2015/16 – 1,275 cm
2016/17 – 1,105 cm
2017/18 – 1,665 cm
2018/19 – 1,430 cm
So this season was the third snowiest of the past six seasons, with last season (2017/18) being the highest in recent memory (16.6m) and the season before that the lowest (11m).
All courses were open by December 22 – the second earliest of the past six seasons.
And one great thing to note about this season was that it was consistently cold with almost no rain events during the entire peak season.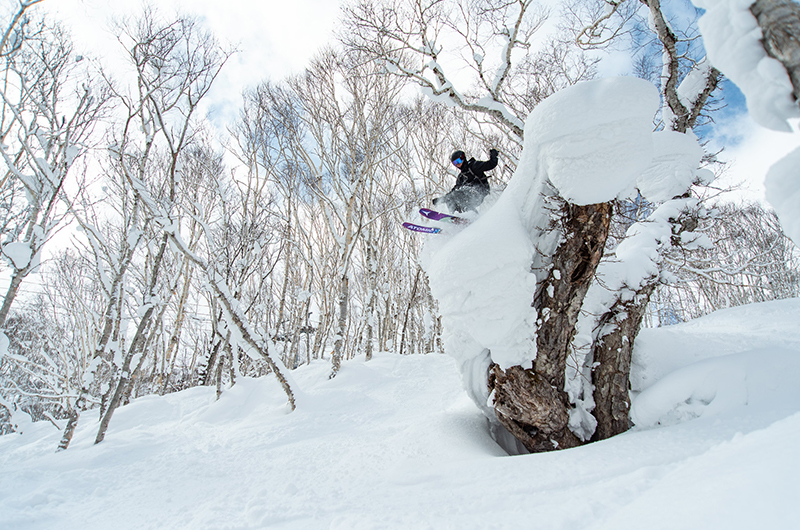 Mid-winter fun! Photo: Jake Smith
Month-by-month breakdown
Looking at the monthly trends and once again, we can say it was kind of average season!
We kicked off with a mild 1.1m in November, followed by a respectable 5.6m in December – interestingly exactly the same as last year's December which went on to be the snowiest year in recent history – but not quite as much as 2014/15 when the final month of the year received a whopping 6.9m.
January was another good month, with a total of 4m – 1cm more than the six-year average of 3.99m!
The wheels came off the snow train in mid-February however, and we experienced what was essentially the earliest end to a powder season in a long time. The start of the month was cold and the snowfall consistent, but with the abrupt halt to the snowfall the monthly total maxed out at 2.3m – well shy of the average 2.7m, and the second least snowfall for February since 2013/14 (1.8m).
The drought continued in March, and while we finally got some powder days towards the end of the month to give us something to record, the monthly total snowfall topped out at under a metre – only 90cm! It was the least snowy March of the past six winters and well short of the monthly average of 1.3m.
Meanwhile come April and we had some fantastic bonafide powder days at the start of the month, which resulted in the highest snowfall April of this six-year window with a total of 35 fluffy centimetres.
And another thing to note was that while we didn't get much fresh snowfall in March and April, we did get plenty of sunshine, very little rain, and perfect views of Mt Yotei and the surrounding country side – including two oceans visible from either side of the peak – almost every day throughout the period. If you don't need fresh powder every day, March and April are the times to come!
Looking to next season
With lifts due to close on or possibly slightly before May 6, we're thinking about our last runs of the season and already starting to think about next. We've got just over six months to look at our skis and snowboards in the racks – and enjoy our green season – before the resort opens again in late November.
Looking at this winter's stats can give you a bit of an idea what to expect if you're planning a trip next winter – it was an average season after all!
Generally you can expect patchy but solid snowfall in late November to mid-December; then solid, regular snowfall from Christmas through to the end of February; before the snowfall starts to wind back and sunshine prevails in March and April.
We'll post one final blog after the lifts close to officially wrap up the season – and with potential snow in the forecast we may be able to bump up the season total by another few centimetres!