March is the ultimate month for family holidays in Niseko – you might not get as much fresh powder snow falls but you will usually get more sunshine and plenty of discounts to make it more affordable – or just pack more into your holiday for less!
After the kids have used half their energy on the ski hill during lessons, it's time to wear them out completely so you can get them off to bed early and enjoy your own après. Here are a few activities you can let them loose on this March.
—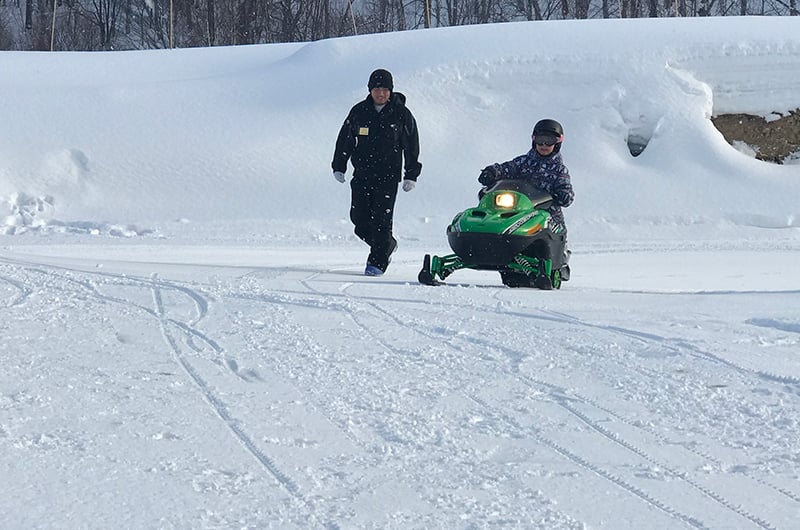 1) KIDS SNOWMOBILE
That's right – now kids aged 6-12 can take control of their very own high-powered snowmobile! Actually, in all honesty they're not that high-powered at all – but don't tell the kids that. These nifty little 120cc steeds can steer them around a short course at the base of the Hanazono Ski Resort at just a little more than walking pace, giving youngsters a thrilling, confidence-building adventure to take away from Niseko with them.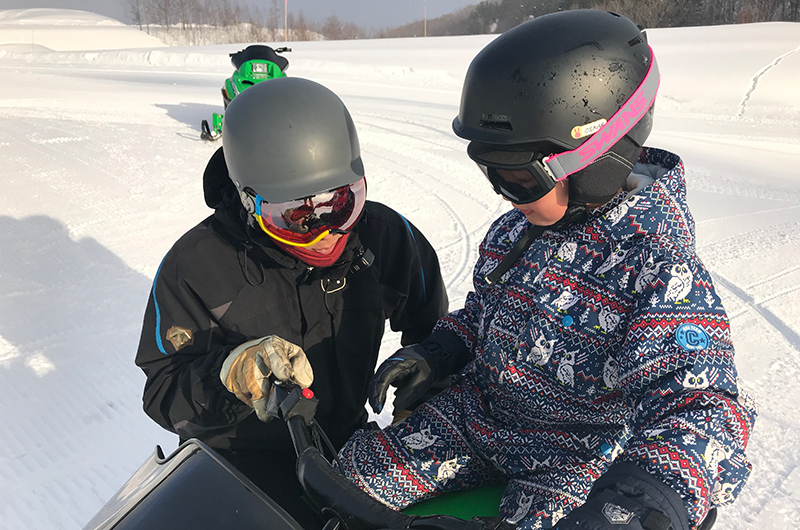 Safety is paramount so you can be confident your child will be perfectly safe. An experienced snowmobile guide will give your kids instructions on how to ride (there's not much too it apart from squeezing the throttle though!) and be supervising your child the entire time, with a safety lanyard connected to the engine kill switch.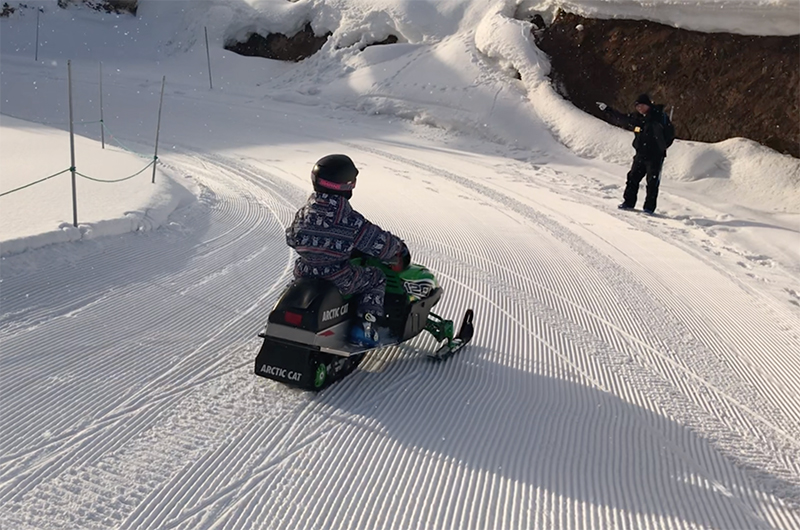 Some kids will take to it straight away and go full throttle off the starting line, while others will stop and start for a lap or so before gaining the confidence to keep the throttle down and do some full laps. One word of warning ­– your kids will ask if they can have second go so make sure you have plans soon after so you have an excuse to drag them away!
Go kids snowmobiling at: Hanazono
—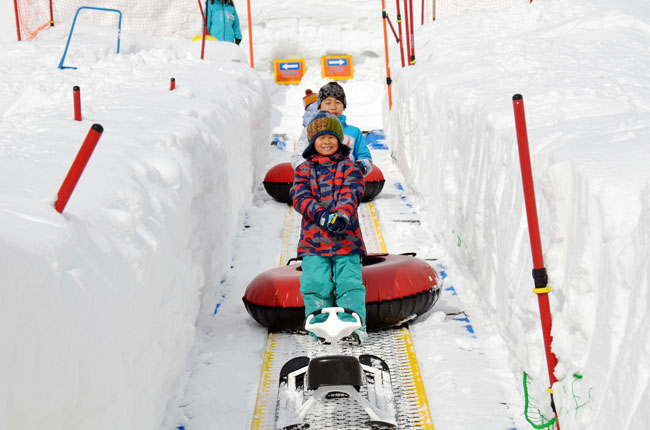 2) ADVENTURE PARKS AND PLAY AREAS
All four resorts of Niseko United have dedicated snow play and adventure areas tailor made for kids. Activities vary from resort to resort but include tubing, sledding and strider bikes. You'll also find safe, gentle slopes and conveyor-belt-style magic carpet lifts – perfect for beginner snow-bunnies!
Find parks and play areas at: Hanazono, Grand Hirafu, Niseko Village, Annupuri
—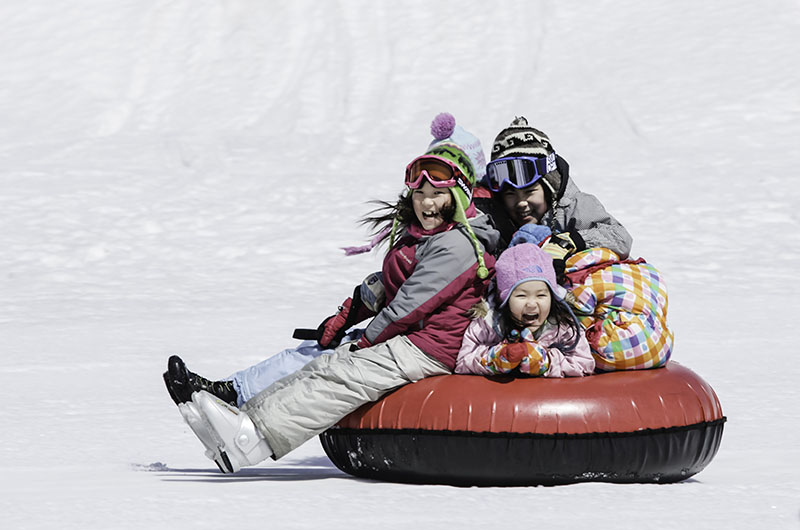 3) TUBING
This is a great activity for all ages but especially one for the younger kids. Slide down the gentle slopes in a giant inflatable tube, and when you reach the bottom the magic carpet lifts will take you back up – or you can walk or run back up the slope to really make sure the kids burn up every ounce of energy!
Go tubing at: Hanazono Adventure Park, Hirafu Kids Park
—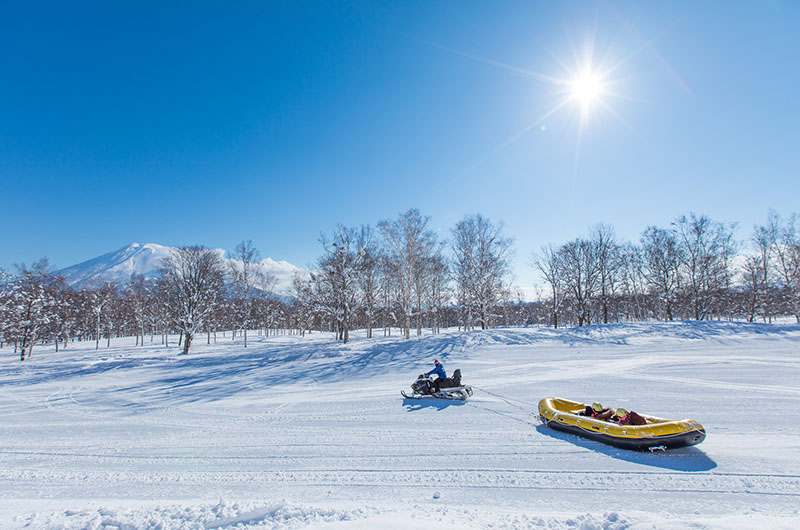 4) SNOW RAFTING
This fast-paced adventure is suited for all ages. Zip across the powder on a snow raft towed by a snowmobile. Your snowmobile guide will expertly navigate through the winter scenery giving you a fun-filled and windy ride.
Go snow rafting at: Niseko Village
—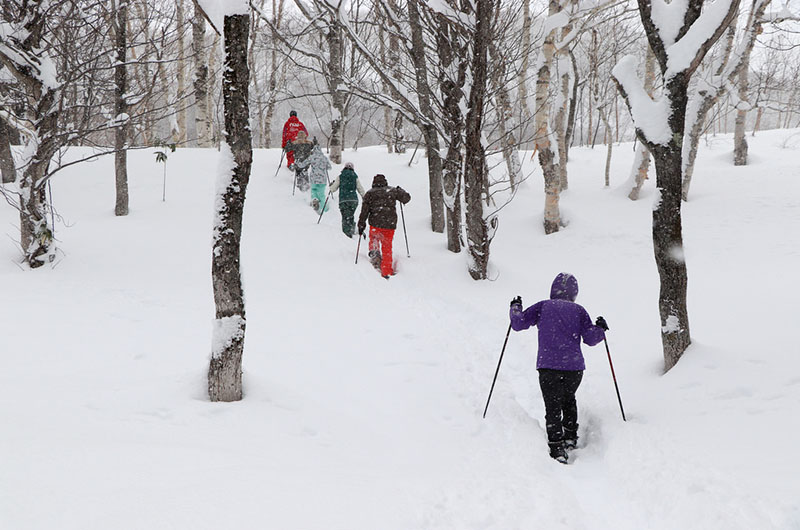 5) SNOW-SHOEING
Take the pace down a notch with a guided snowshoeing adventure – something the whole family can enjoy. Explore Niseko's beautiful natural surrounds, with majestic trees, glittering snow and elusive wildlife. Grand Hirafu also offer "snow ramblers" which are a special type of ski for use in deep snow.
Go snowshoeing at: Hanazono (13+), Grand Hirafu (7+, 10+ for ramblers), Niseko Village (6+)
—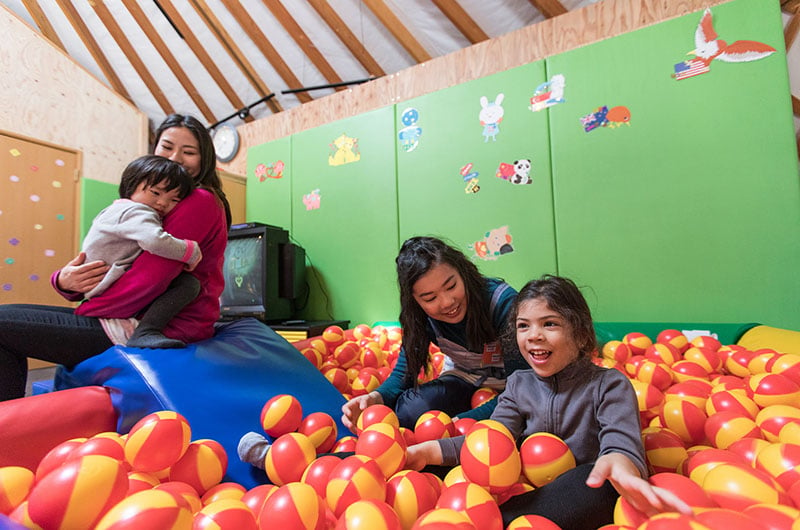 6) KIDS CLUB
There are a few kids clubs throughout Niseko United, all offering different styles of activities and childcare. You can be sure your children will be well looked after and have a lot of fun while you're up the mountain having your own!
Find kids clubs at: AYA Niseko Kids Club, Grand Hirafu, Niseko Village
—
Some activities have age restrictions so please check with each activity provider or resort when making your bookings.
This is just a list of a few of the activities on offer but check with each individual resort to find out exactly what fun you can get up to during your stay.